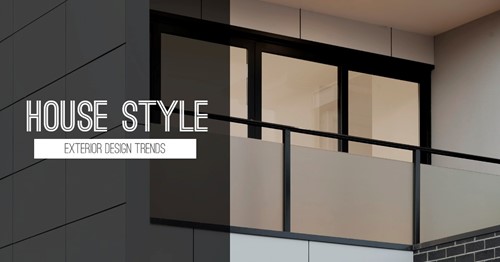 House style goes way beyond interior design. When it comes to curb appeal, exterior home design is everything. If you're trying to sell your home or just want to make a statement in your neighborhood, knowing the hottest trends can help inspire your design ideas.
Whether your home is craftsman style, Cape Cod style, ranch style or one of many other architectural styles, there are ways to make these trends work for you.
Here are some of the biggest things trending in exterior home design to inspire you:
Two-tone exteriors
A two-tone color scheme can make a dramatic difference to your house style. For depth and dimension, try combining different materials like brick and wood siding. High contrast hues can add a bold, modern vibe to your house exterior, while more subtle combinations are perfect for any architectural style.
Off-white paint
White has always been considered a timeless color for the outside of your home, but off-white is the next best trend. There are plenty of off-white shades to choose from to brighten your home's facade without overwhelming the design. Off-white is an incredibly versatile color trend that can work with any style of home.
Indoor/outdoor spaces
To stay at the forefront of exterior trends, think beyond your front porch or garden. Homes that blur the line between indoor and outdoor living spaces have become more popular lately, and the front of the home is no exception. Keep your entryway level with the ground to create a seamless transition from nature to your front door.
Stylish garage doors
Upgrading your garage door is a classic and effective way to increase your curb appeal, but fresh and stylish garage door designs are trending in a big way. If you have a front-facing garage, make the door a major part of your house style by using beautiful natural wood and glass windows.
Creative house numbers
House numbers should be easy to find–the last thing you want is for your packages or food delivery to get lost. However, trend-savvy homeowners are using creative new ways to display their house numbers while still keeping them legible. Go for high contrast, mixed materials and add accent lighting for an extra wow-factor.
Statement entryways
The entryway to your home is much more than just your front door. One major trend in house style is highlighting the entire entryway with columns, porch awnings and dramatic gables. You can also let the arts and crafts movement inspire your design choices and go for an entryway with plenty of detail and embellishment.
Bold front doors
Front door color can make an enormous impact on the entire facade of your home. Whether you opt to complement your current color scheme or go for dramatic contrast, trendy colors like turquoise and muted green can work in both traditional and modern house styles.
Bahama shutters
Shutters are a popular way to add interest and dimension to your home exterior. Bahama shutters are a trendy and practical option, as their top-hinged design tends to fit more styles and shapes of window than side-hinged shutters.